Auction for Tuition Assistance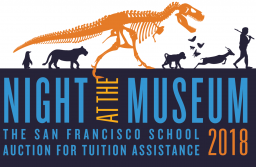 Saturday, March 17, 2018
California Academy of Sciences
6:30 PM - 11:00 PM
Every spring, The San Francisco School, with the generous collaboration of many parent volunteers, organizes an auction that supports the school's indexed tuition program. This program benefits nearly one-third of our students and ensures the socio-economic diversity that is so vital to our mission. With approximately 250 attendees, it is a great evening that brings school parents, staff, and friends of the school together to raise critical funds.
The 2018 Auction for Tuition Assistance will be held in the Color of Life exhibit and African Hall at the California Academy of Sciences on Saturday, March 17, 2018 from 6:30-11PM. We look forward to what promises to be a great time. Thank you in advance to all or donors, volunteers, attendees, and bidders for making the auction such a success!
If you are scheduling a community event, please check the schedule in the link on the right to see the events that have already been scheduled.