Wednesday What's Happening
Chris Mader MS Head  September 28, 2016
Welcome to the SFS Middle School "Wednesday What's Happening!" This forum will be a way for me to keep families updated as to what is going on in the middle school. In addition to sharing my own thoughts on life in the middle school, I will be asking teachers from various grades and programs to provide me with details about what's currently happening in their particular subjects and classes, including what is on the near horizon for students, as well as providing information about upcoming events that are middle school specific. This will not take the place of TNH or other communications, rather this is a way to communicate and illuminate the many wonderful things taking place across the Middle School that your child may not tell you about.
A huge thanks to all who were able to attend Back To School Night two weeks ago. It is so great for staff to have a chance to connect with you about their work as classroom teachers. It was wonderful for all of you to walk through a 'day in the life' of your child here at school.  As we mentioned at BTSN, information on parent access to ChalkUp should now be available to you. 
It is hard to believe that just last week at this time 65 sixth and seventh graders were sitting in El Cap Meadows in Yosemite creating panorama watercolors and pencil sketches of the incredible scenery. The previous day's hike to Vernal and Nevada falls is something they should be proud of accomplishing as the hike built resilience and required perseverance.  Star-gazing, game playing, natural history lessons and simply living in the outdoors are important opportunities for growth and learning.  It was a fantastic week overall and I am sure your child came how with a myriad of stories that only they know about.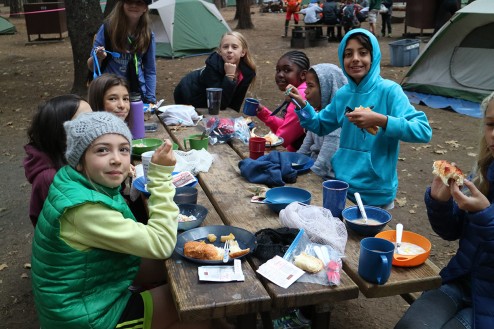 Morning Breakfast in camp at Upper Pines Campground: Half Dome Village, Yosemite
 'Wednesday What's Happening' will be posted every other week.
Posted September 29, 2016