SFS Exhibition of Pacific Coast Sea Life at SFPL Portola Branch
Tagged with:
By Jeanie Chang
Vice Chair, Board of Trustees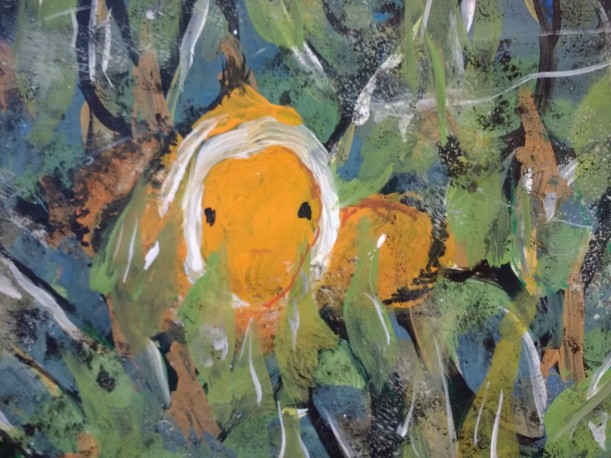 This year's SFS school painting theme studies and celebrates the Pacific Coast, one of the most diverse and healthy coastal sea areas in the world.  Each grade level took on a specific species or habitat to think about and bring to life through paint.
Initially displayed on campus in the Karen Goodkin Gallery, selections from the school-wide project are now on exhibition at the SF Public Library Portola Branch Community Room (380 Bacon St). In addition, a video exhibition of the poetry and music of music teacher James Harding with the Orff interns and 2nd Grade are available to experience through a QR code.  
The paintings attempt to raise awareness of threatened or endangered marine life by inviting the viewer to be in contact with the specific sea life portrayed and consider conservation efforts.  A call to action through "10 Things You Can Do To Save Our Seas" is included in the exhibition.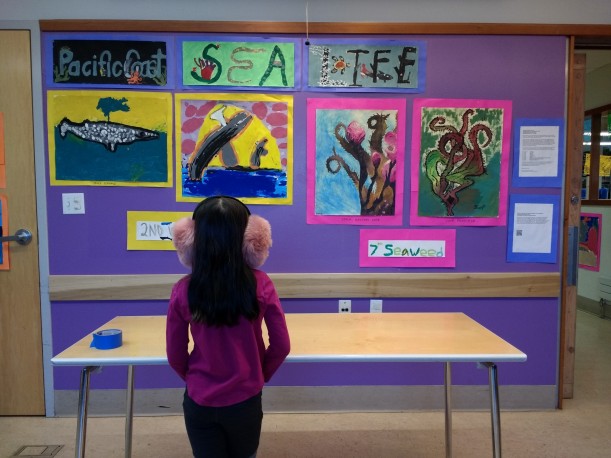 The SFS painters featured include Harper Morris, Marlon Scheben and Raza Singh (Kindergarten, Jellyfish); Surina Chandra (1st Grade, Sea Stars); Felix Fernald and Esme Koechley-Bell (2nd Grade, Whales); Lloyd Connelly and Elizabeth McNeel (3rd Grade, Big Fish); Ella Ford and Petra DeMeo (4th Grade, Crustaceans); Susanna Cahill-Rosqueta and Nadine Denmark (5th Grade, Sharks); Sean Green, Violet Isenberg, and Senna Nijagal (6th Grade, Otters, Fur Seals, and the Pacific Coast Sea Turtle); Sofia Nastari-Case and Jude Penfield (7th Grade, Kelp Forest and Coastal Seaweed); and Mirabel Fernald and Paris Hing (8th Grade,California Tidepools).
The Pacific Coast sea life video was created by James Harding, Cathy Correa, David DiMuro, Hana Havelková, and Didem Karsayikali in collaboration with the 2nd Grade.
Posted December 12, 2017