SFS Board Members Attend CAIS Conference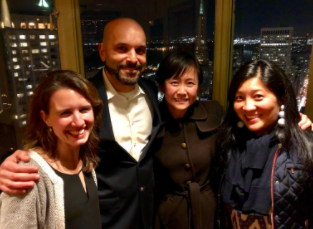 L-R. Rachel Benson, Steve Morris, Jeanie Chang, and Ruth Chang Hess
By Jeanie Chang, Vice Chair, Board of Trustees
On January 27-28, 2018, several members of the SFS Board of Trustees attended the California Association Independent Schools (CAIS) Trustee/School Head Conference, described by CAIS Executive Director Jim McManus as the largest gathering of independent school heads and trustees in the world. CAIS is comprised of 228 schools and over 94,000 students, and is the association through which SFS is accredited.
Keynote speaker Roberto Suro, professor in the Annenberg School for Communication and Policy Planning, and Development at University of Southern California, who spoke about the critical need for independent schools to not only recognize the demographic changes of the present and future but also practice mutuality. His presentation was supportive of CAIS's goal of better serving underrepresented students, particularly Latino/a students, so that its schools may more clearly reflect their local, regional, and state populations. This was particularly resonant to the SFS contingent given our school's strategic initiative in Spanish Language and Global Programs, a directive to expand and appreciate our cross-cultural experiences.
Donna Orem, President of the National Association of Independent Schools, presented her research and observations on the unprecedented societal changes. She discussed numerous impending tipping points, including the critical need for social emotional skills, preserving an institution's core while anticipating change, and the evolution of the educational experiences. We are thrilled that Donna will be visiting the San Francisco School in March as part of a broader West Coast school trip, and will share her vast experience further insight into the context for today's schools and strategies for meeting challenges as opportunities.
Our SFS delegation included Steve Morris and six trustees representing a wide variety of board committees and the Family Association (FA): Jeanie Chang (Board Vice Chair), Ruth Chang Hess (Advancement), Cathy Manshel (Public Purpose), Jessica Tomlinson (Risk), Baljeet Singh (Finance), and Rachel Benson (FA Chair). They attended workshops on topics such as board governance, technology best practices, philanthropy, housing solutions for school sustainability, understanding the children of immigrants, managing risk for outdoor education and international travel, and gauging performance through dashboards and data to inform decisions. The meeting was a valuable opportunity for board education, development, and inspiration.
Posted February 12, 2018