Families4Families Initiative Takes Off!
Tagged with:
In the initiative's first event, the SFS community had the chance to meet with Meghan Freebeck, founder of Simply the Basics and CEO of Project Homeless Connect.
By Rachel Benson, Family Association Chair; Cathy Manshel, Public Purpose Committee Chair; Raveena Rihal, Public Purpose Committee Member, and Libby Reder, Public Purpose Committee Member
SFS's Terrace Room was filled to capacity last Thursday evening by parents, students, and staff who attended the kick-off event for the Family Association and Public Purpose Committee's Families4Families initiative.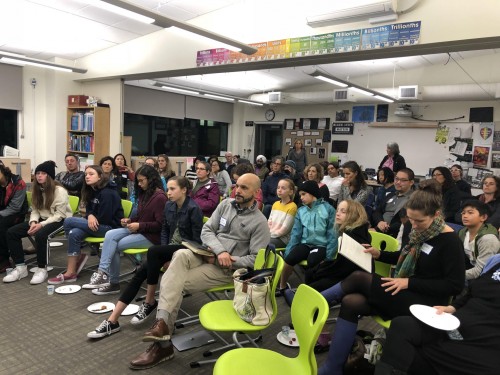 Meghan Freebeck, founder of Simply the Basics and CEO of Project Homeless Connect, educated the room on issues related to those who are experiencing homelessness, and debunked preconceived notions of what it looks and feels like to be homeless. She shared her organizations' efforts around providing basic hygiene necessities and other critical services to participants trying to gain stable housing.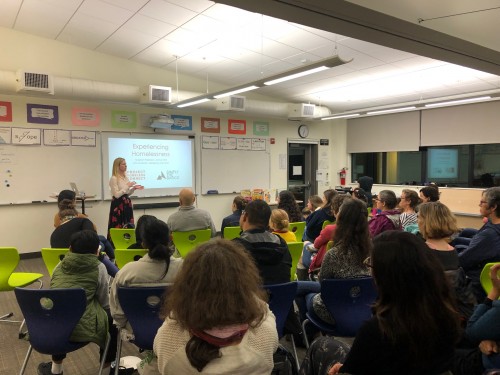 In a little more than an hour, Middle Schoolers and adults alike came to understand important statistics:
Most people experiencing homelessness in the Bay Area are older than 70 years old
45% of San Franciscans are one check away from homelessness
20% of the people experiencing homelessness are sleeping on the streets; the others are in a wide range of very temporary housing or in extra beds/rooms with friends and relatives
Over the course of a year, 22,000 people are without a home for at least a night in San Francisco
Important Takeaways:
Language: identifying someone as a 'person or neighbor experiencing homelessness' vs a 'homeless person'
Resources For Parents: Age Appropriate Reading List and information to start having these conversations with children
Simple Actions:

If a person experiencing homelessness is in distress or needs help, it's OK to call 3-11 or use the 3-11 app, at which point the Homeless Outreach Team is activated
Offer to buy one thing from the store that they need. Water and food of their liking are good options.
Look them in the eye and say hello
The presentation ended in a robust Q&A session where attendees delved deeper into the issues, with poignant questions from students and parents.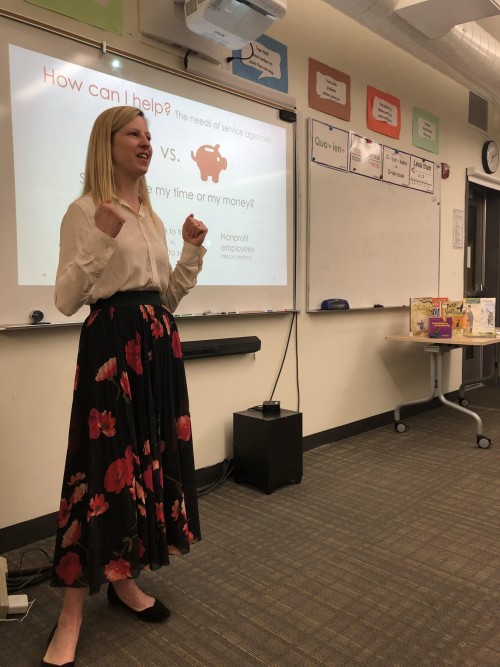 The evening was a huge success, and a wonderful example of the leadership of the Public Purpose Committee in bringing the idea behind the Families4Families initiative to the Family Association and thus to our community of engaged families.
The next phase of the initiative will include a Middle School Town Hall on December 7th, featuring a program officer from Larkin Street Youth Services, an essential local nonprofit supporting youth experiencing homelessness. This willl be followed by a Middle School-led, all-school hygiene drive to help those experiencing homelessness get the basics they need. The Family Association will be hosting a gathering to help assemble the products gathered from the drive.
Stay tuned for more information on this effort - we hope you'll join us at an upcoming Families4Families event!
Posted December 04, 2018