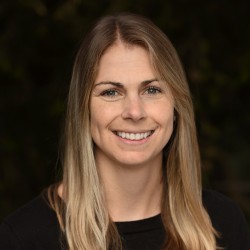 Kim Fabiani
K-4th Grade Learning Specialist
I love all things literacy and strive to ignite the same passion in my students!
I am an east coast native; I grew up in Concord, Massachusetts and attended college in Vermont. I enjoy going back east every summer to spend time with my family on Cape Cod.
Prior to coming to SFS, I taught for three years as an early childhood educator in Washington, D.C., and for five years as a kindergarten teacher at the Tenderloin Community School. I have co-taught Kindergarten with Dolores Elkin for three years before becoming the K-4th Grade Learning Specialist.
I earned a BS in Elementary Education from the University of Vermont, a Master of the Arts in Teaching Reading from the University of San Francisco and hold a California Multiple Subject Teaching Credential. In my free time I enjoy hiking, reading and traveling!