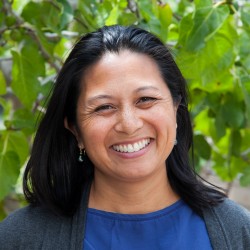 Nancy Nagramada
Head of Upper School
After more than 20 years in education, I have no doubt that all the different paths I walked upon have led me to The San Francisco School, a place that honors each child with such intention.
My parents moved from San Francisco to raise their family, and I was the first of our Filipino clan to be born in the East Bay. My baptism into the world of education began as a college student teaching in the Summerbridge program in San Francisco.  I was hooked.  I spent my undergraduate and graduate years in New York City, earning my BA in Education and Anthropology from Hunter College, completing my New York State teaching credential, and ending my time back East with my MA in Education Administration from Teachers College at Columbia University. 
Prior to joining SFS, I served as a teacher, administrator, and residential faculty member during my 14-year tenure at The Athenian School at the foot of Mt. Diablo in the East Bay.  Before my time there, I worked at Castilleja School in Palo Alto, The Dalton School in New York, Sacramento Country Day, and Friends Academy in Long Island.  
At home I am a partner to my husband, who is also an educator, and a mom to my two boys, one entering high school and one entering elementary school.  We are enjoying our new lives as San Francisco residents.  And as my parents said when they visited us here in the City for the first time, "It's like it all has come full circle."  I'm so glad to have found my new home.
Contact
nnagramada@sfschool.org