Headspace: 'Tis The Season To Be Grateful
This is the perfect time of year to curl up with a good book filled with important messages!
As we make our way through this holiday season, I am feeling a tremendous amount of gratitude toward family, friends, and the SFS community. In this, my eleventh year as the Head of SFS, my enthusiasm for this role and our community is at an all-time high. I am so lucky to get to witness daily evidence of our community learning, lifting, sharing, and growing with one another. In the spirit of giving thanks, I hope that this small and varied collection of books that all focus on gratitude provide you and yours inspiration and a wonderful holiday break.   
Picture Books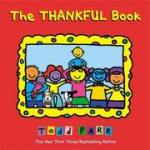 The Thankful Book by Todd Parr: A sweet celebration of all the things in life there are to be thankful for, from New York Times bestselling early childhood author Todd Parr.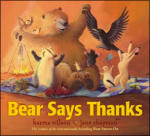 Bear Says Thanks by Karma Wilson: Bear is having a feast for his friends, but his cupboards are empty! Each friend shows up, bringing food, and the book shows themes of generosity, friendship, and giving thanks.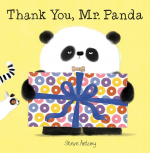 Thank You, Mr. Panda by Steve Antony: A young child-friendly way to not only reflect on thoughtful gift-giving, but also on the concept "it's the thought that counts."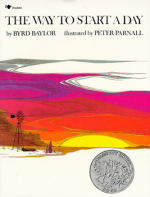 The Way to Start A Day by Byrd Baylor: An oldie but goodie about how people all over the world celebrate the sunrise, with the reminder to be grateful that, whatever has happened the day before, each day gives us a chance to begin again.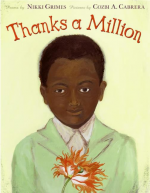 Thanks A Million by Nikki Grimes: Coretta Scott King Award-winning poet Nikki Grimes shares 16 poems in a variety of styles on the power of giving thanks.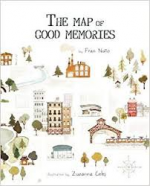 The Map of Good Memories by Fran Nuño: Thematically better for older students, this beautiful book tells the story of Zoe fleeing her city with her family during wartime, first taking the time to draw a map of all of the places where her happy memories of the city "live," and finding gratitude for the parts of home that can be carried with us always.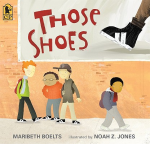 Those Shoes by Maribeth Boelts: This is one of those picture books in which even Middle Schoolers can find discussion points - from wanting to be part of a fad, to the concept of want vs. need, to reaching out when another person needs help.
Chapter Books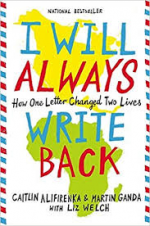 I Will Always Write Back: How One Letter Changed Two Lives by Martin Ganda and Caitlin Alifirenka: This is a dual memoir by two students who met as pen pals across the world, Caitlin in America and Martin in Zimbabwe, and went on to become lifelong best friends. They reflect on their gratitude for this unlikely friendship that has changed their lives for the better, and on the many things they learned to appreciate about each others' families, schools, and countries - and their own.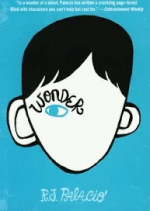 Wonder by R.J. Palacio: This award-winning, heart-warming, tear-jerker of a book, along with other related books by Palacio, tells the story of fifth-grader Auggie's struggle to be accepted. Auggie's narration inspires feelings of compassion, hope, and above all, thankfulness for friendship.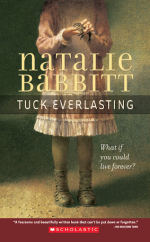 Tuck Everlasting by Natalie Babbitt: In a fascinating twist, this novel deals with gratitude for life and humans' constant longing for more of it, then explores what happens when that wish is actually granted. *Warning: this book deals with themes of mortality.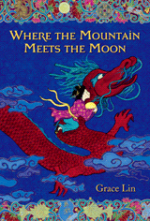 Where the Mountain Meets the Moon by Grace Lin: In this novel, inspired by Chinese folklore, a girl sets off in search of the Old Man on the Moon in an effort to change her family's fortune. The theme of the joy one finds in thankfulness is woven throughout, down to one character's revelation "that joy had been in her home like a gift waiting to be opened."  
Posted December 19, 2018