SFS Week of Service 2022
by SFS Parent and PPC member Danielle Goodman
The annual SFS Week of Service has been an initiative of the Public Purpose Committee for four years running. Connected to the Strategic Plan, the goal has been to deepen our relationship with the Portola neighborhood and support the school's environmental and humanitarian focus. 
We want to thank all the families, teachers, staff, and partner organizations who are helping the PPC in raising the next generation of engaged citizens. Our Week of Service 2022 was a resounding success with over ten opportunities for families within and outside of the school gates to support our community and those in need elsewhere. A special thank you to Director of Special Programs Sharon Ng for organizing service opportunities for classes to engage with during the week.
Here are some of the highlights from this year's Week of Service events:
Saturday, April 2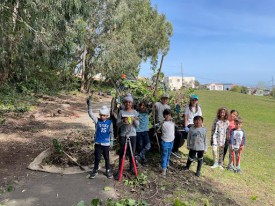 McLaren Park - Clearing and Beautification. Thirty-five students and families from kindergarten to middle school came together to clear paths and beautify one of our treasured local parks under the direction of SF's Parks and Recreation and team leader Raveena Rihal.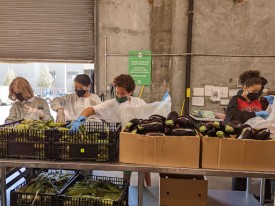 SF-Marin Food Bank - Grocery Packing. Thirty upper elementary & middle school families organized, packed, and distributed 995 bags (18,000 pounds) of essential groceries for local families in need. Thank you SF-Marin Food Bank for your partnership and team leader Elfi Chandra.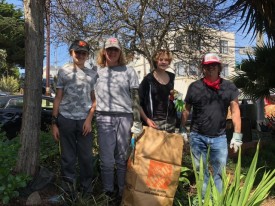 Tompkins Stairway Garden - Weeding and Beautification. SFS parents and kids cleared 11 bags of weeds and beautified this local gem for all to enjoy. Thank you team leader Sharon Ng for coordinating!
Sunday, April 3
Ocean Beach - Garbage Clean Up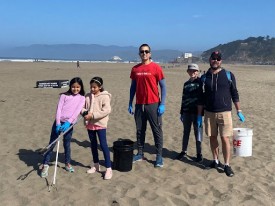 . Working with the Surfrider Foundation, thirty-five people from kindergarten through middle school families spent the day cleaning up garbage from the Ocean Beach shore that may otherwise have harmed wildlife and polluted our oceans. Thank you team leader Jen Faenza.
St Anthony's - Hygiene Kit Assembly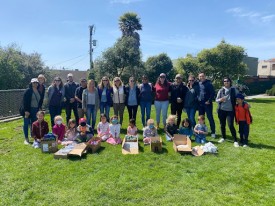 . More than 20 preschool, kindergarten and 1st grade families gathered at St. Anthony's Foundation headquarters to assemble hygiene kits with essential items like toothpaste, shampoo, tooth brushes, and soap for people experiencing homelessness in our city. Thank you, St. Anthony's and  team leader Raveena Rihal.
Monday, April 4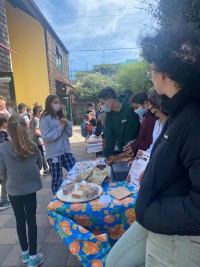 Bake Sale for Ukrainian Refugees. We held a bake sale on campus to raise funds for Ukrainian refugees. Specifically, the $1141 raised was donated to the Immaculate Conception Ukrainian Catholic Church's refugee relief partners on the ground in Poland. Thank you to the 25 families who donated delicious treats, the parents and 8th grade volunteers who managed the sale, and 1st grade parent Diana Jannson who spearheaded the event.
Class Activities
Heron's Head Park Wetland - Gardening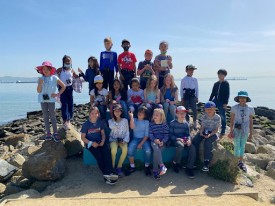 The 3rd grade headed out to Heron's Head last week to learn about the Bay Area's natural ecosystems and to help out with gardening.
McLaren Park - Beautification and Gardening with SF Parks and Recreation. The 4th and 5th grades helped prepare and beautify McLaren Park for the triumphant return of the SFMOMA Soap Box Derby after more than forty years!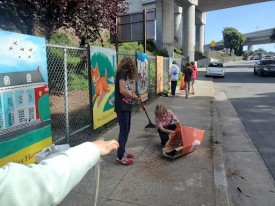 Alemany Blvd - Clean Up &  Mural Preservation. Seventh and 8th graders cleaned up Alemany Blvd, our gateway to the Portola neighborhood and our road to school. They worked closely with Portola Neighborhood Association Chair and former SFS Head of the Lower School Maggie Weis to delicately (and temporarily) remove and store the Alemany Blvd Murals so Caltrans could replace the surrounding fencing.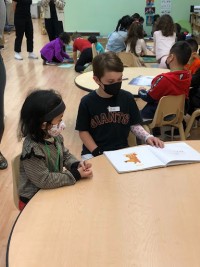 Portola Family Connections - Preschool Buddies. Second graders buddied up with preschoolers at Portola Family Connections to read, draw, and do puzzles. We are thrilled to announce that this will be a regular partnership opportunity for the 2nd grade going forward!
Posted April 12, 2022