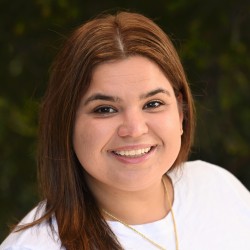 Keianna Colón
Preschool - 8th Grade Program Assistant
I couldn't have chosen a better school in which to begin a new chapter of life!
Born in Hawaii and raised in San Francisco, I went to school in the Peninsula. As soon as I graduated high school, I began working as a paraprofessional with special needs students at Sanchez Elementary School, in a Third to Fifth Grade classroom. I loved my students and being part of the school setting, and decided to continue my educational path at City College of San Francisco, and fortunately, with The San Francisco School as well. I am currently working on an Associate's Degree and hope to transfer to a state university to study Sociology.
Outside of the classroom, my life is dedicated to my family. I'm so grateful to have three living grandparents, and spend as much time as I can with them. I love to be outdoors, whether hiking or camping at Lake Berryessa. I love to explore different places in the City that don't get much recognition, and take advantage of the beauty we have right here in our backyard. I can't wait to begin this journey and meet all the SFS students and their families!