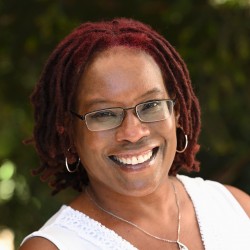 Terri D. Hamer
Chief Financial & Operational Officer
I am very glad to be a part of The San Francisco School community!
As Chief Financial & Operational Officer, I hold responsibility for the School's fiscal strength and operations administration, and serve on the SFS senior administrative team. I have more than two decades of experience in independent school and nonprofit business management, primarily in Massachusetts, Rhode Island, and Pennsylvania, and most recently at Greene Street Friends School, where I served as Business Manager. I hold a bachelor's degree from the University of Massachusetts and an MBA from Suffolk University.
My husband Sean Hamer is Head of the Alta Vista School, and we are the proud parents of Nala and Sekou. We love to travel as a family, visiting new places and experiencing new cultures. We are all excited for our next wonderful adventure: living in the beautiful San Francisco Bay Area, and connecting more deeply to our community here.