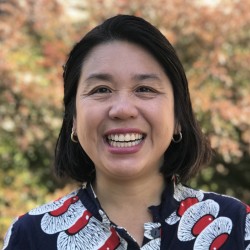 Sharon Ng
Special Programs Director
I am passionate about afterschool and its special magic to nurture little citizens of the world.
I grew up in afterschool, working in my mom's neighborhood program, for Vancouver Parks and Recreation, and at programs in my daughters' schools - it is my first job that I continue to love today!
I bring to SFS project management experience including launching a popular girls maker camp called Curious Jane; directing afterschool programs at New York City's Avenues : the World School and PS 133, as well as managing all aspects of a children's foreign language franchise across 40+ public and private schools in New York. I am excited about empowering young girls and have started a mother-daughter Girls Leadership book club. I live in Bernal Heights with my family, where we are involved with the Tompkins Stairs Garden. I hold a master's degree in public administration from the NYU Wagner School of Public Service and a B.A. in General Arts from the University of British Columbia.
Fun fact: I never had a dog growing up; when we moved to San Francisco, my family bought a miniature poodle named Qiqi (Mandarin for energy), and I am besotted - she is my third child!
"Whatever you think you can do or believe you can do, begin it. Action has magic, grace, and power in it." Goethe