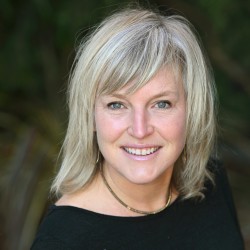 Laura McGourty
Upper School Counselor and SEL Coordinator
"I long, as does every human being, to be at home wherever I find myself." Maya Angelou
I am delighted to call SFS my home. As counselor, my goal is to help our students calibrate their inner compass so they can navigate all development peaks and valleys that come their way. I have worked with young people for more than two decades, as a science teacher, SEL educator, and mental health therapist. I am a Licensed Professional Clinical Counselor (LPCC), and hold a Master of Science in Counseling from San Francisco State University with a Pupil Personnel Services Credential (PPSC), and a Bachelor of Science in Resource Economics from the University of New Hampshire.
I have been in private practice as a therapist and school wellness consultant, most recently at Marin Montessori. Before coming to SFS, I worked at The Menlo School on the Peninsula for 10 years, as a grade 6-8 counselor and facilitator of faculty trainings and parent education on topics surrounding current tween and teen experiences.
I grew up in Massachusetts and have called San Francisco home for 20 years. I live with my family in cozy Bernal Heights. Being half city mouse and half country mouse, I love taking in all the creative urban vibes the City has to offer and then retreating into nature to soothe my senses.