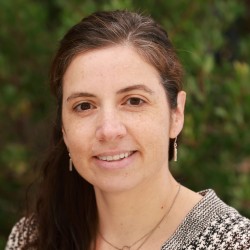 Tiphani Russell
K-5th Grade Art Teacher
What I love most about SFS is the Arts are so valued – as they should be.
I love that the Arts (visual, music, dance, and drama) are so often incorporated into the classroom curriculum. It's a community that values the process of making art, not just the final product - the story behind the art is what is interesting here. A community that values this is a community worth being a part of. I also love that the outdoor space is so natural and wild and that the students get long periods of time to play, learn, and grow through their social interactions at SFS.
I grew up in the tri-state area of New York, between the Catskill and Berkshire Mountains. I spent a lot of time playing, exploring, and investigating the natural world. I attended both public and Waldorf schools. I graduated from Rochester Institute of Technology, where I studied advertising photography and graphic design, with a BFA. I moved to San Francisco in 2006, worked as a freelance graphic designer and photographer for a few years before receiving my child development degree and Montessori training. Most recently, I received my Masters in Education from the University of the Pacific through the Bay Area Teacher Training Institute (BATTI).
I am most passionate about creating, crafting, and making art with children. Outside of school, I love to paint, print make, make collages, photograph, practice yoga, visit museums, travel and explore with my husband.