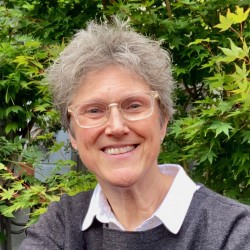 Ellen Fey
Enrollment Management Assistant and High School Guidance Counselor
I love working at a school where we're proud that our students go home "dirty, tired and hungry" … for all the right reasons!
I first stepped through the Gaven Street gates in 2005 when my wife Kate and I brought our then two-year-old son Ben (Class of '17) to his preschool assessment. When we finished up with the teachers and told him it was time to go, he asked very sincerely, "Why are we leaving?" Thankfully he began his SFS journey later that fall. And yes, he routinely came home dirty, tired, and hungry! 
I was born and raised in the Central Valley, attended Smith College where I received a BA in Religion and Art History, and earned my Master's in Social Welfare from UC Berkeley. I worked with patients and families as a Licensed Clinical Social Worker at Stanford Hospital and UCSF for 20 years and have been a member of the admissions team since 2019.
While at SFS as a parent, I served on the board, chairing the Public Purpose Committee from 2010-2015 and served as Board Chair from 2015-2018. I am a freelance photographer and particularly enjoy sports photography. I feed my soul by volunteering at Toluma Farms, a goat and sheep dairy in Tomales, CA. I love cooking without recipes, capturing big and tiny moments in my travel journal, and spending time with my wife, son and black lab, Harley - preferably together on the couch or with friends and family around a bonfire on the Oregon Coast.