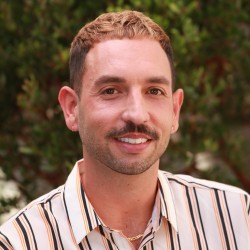 Daniel DeLuca
Learning Specialist, Kindergarten - 4th Grade
All kids can learn, and all kids learn differently. It is important that we know and teach students how they learn best, so they can become their most successful selves.
My family includes a long line of special education teachers, so it was only natural that I became a Learning Specialist! I started my career as an assistant teacher at the Charles Armstrong School, where I taught language arts and math in the 4th and 5th grades. During my ten years as a teacher at SF Day School, I taught neurodiverse students in both the lower and upper school. I have also served as a 7th Grade Advisor, Yearbook Advisor, and Musical Theatre Performing Arts Teacher. I thrive with a creative outlet, and enjoy writing, musical theater, fashion styling, and spending quality time with my dog.
I earned my Bachelor of Arts in Journalism at Sacramento State University, then attended the American Musical and Dramatic Academy in New York. I returned to  graduate school in 2010 to obtain my mild/moderate Special Education teaching credential, and received a Master of Arts in Special Education from San Francisco State University in 2015.