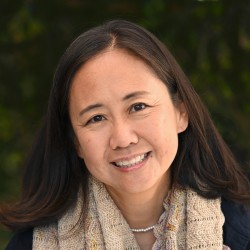 Jeanie Chang
Communications and Marketing Manager
From the patient bedside to the Tuesday Note Home, clear and empathetic communications is critical.
I was born and raised on the East Coast. My Korean-American family moved from Washington, D.C., NYC, and Philadelphia, before settling in the Allentown, Pennsylvania. After graduating from Brown University and the Tufts University School Medicine, I trained in general/vascular surgery and worked in metropolitan Boston. It was a deeply gratifying experience, treating patients with an array of histories, cultural backgrounds, and illnesses, in the city and in the suburbs. But after more than a decade in private practice, dissatisfied with balancing family with work, I made the difficult decision to leave medicine.
With my husband Dana (a California native) and our young daughter, we left Massachusetts arrived in San Francisco in 2012. I have engaged with the School from so many perspectives – preschool and elementary school family, room parent, tour guide, and library volunteer! I've learned so much as a trustee, especially while co-chairing the Public Purpose Committee, chairing the Strategic Planning Committee, and serving as the Vice Chair of the Board. My exposure to the School's operations and challenges deepened my understanding of SFS and its many constituents. I became the Communications and Marketing Manager in March 2020, and have tried to keep the community informed and connected throughout the pandemic and beyond.