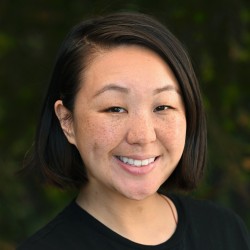 Lisa Ma
2nd and 3rd Grade Teaching Assistant
I am so excited to be a part of a community that is devoted to cultivating socially responsible students who will influence positive change in the world.
I am a San Francisco native who has a love for traveling, which has led me to live abroad in South Africa and China. I graduated from the University of California, Irvine with a double major in International Relations and Anthropology. I then went on to study Chinese, Mandarin at the Beijing Language and Culture University while teaching English in Beijing. It was during my third year in China, while teaching English to a class of first graders, that I discovered my passion for teaching children. I returned back home to San Francisco soon after and received my master's in Curriculum and Instruction.
In my teaching career, I have had the privilege of being able to collaborate with many teachers from different backgrounds and teach across different grade levels including: kindergarten, second, third, and fourth grade. These experiences have led to my passion in spearheading student-centered curriculum that focuses on diversity, equity, and inclusion. I hope to bring my enthusiasm for creating a classroom environment that focuses on social justice to SFS.