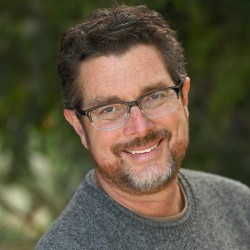 Damon Allswang
4th and 5th Grade Math Teacher
As I told people about my new job teaching at SFS, I kept hearing more and more about what an amazing place it is. I am so excited to get to know this school and the people who make it special.
I was born and raised in Oakland and live there still. I have been teaching and leading in Bay Area independent schools for more than 25 years. My first teaching job was as a science teacher for grades K-2 at a school in the Outer Sunset. It was there that I learned the importance of "doing" science. With both Ocean Beach and Golden Gate Park an easy walk away, we spent countless hours outside studying plant and animal life and natural phenomena.
Teaching math is also a passion of mine. There is nothing like seeing the growing delight and confidence in students as they learn that they can make discoveries of their own that reveal patterns and rules that lead them to the next idea.
When I'm not teaching, I'm spending time with my 16-year-old son, playing doubles volleyball, and traveling and exploring the world around me – whether that means flying across oceans, trekking inn-to-inn on the California coast, hiking local trails, or noticing things I've not seen before on a walk in the city where I've lived for 42 years.