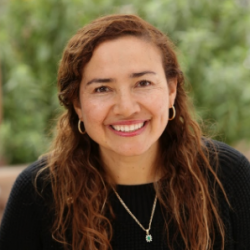 Adriana Pfuhl
First Grade Teaching Assistant
I am excited to join a community of great educators and families. I look forward to an amazing year at the San Francisco School!
I was born and raised in Bogotá, Colombia, where I obtained a degree in Early Childhood Education from the National Pedagogical University of Colombia and a degree in Management of Educational Institutions. I worked in Colombia as a first grade teacher for 6 years. 
I have continued my work in education since I moved to the Bay area in 2004. I earned an ESL program certification from City College.  For the past 15 years, I have volunteered in education and global health programs in Central America. I have worked as a Spanish teacher in Kindergarten and co-lead teacher in First grade in other independent schools in San Francisco. I love to travel and listen to music from different parts of the world!