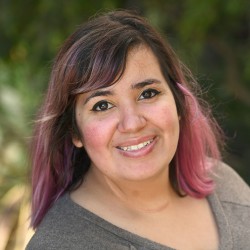 Victoria Campanario
Assistant to the Head of School
What I love about the San Francisco school is its deep roots within its community. We pride ourselves in building a community beyond the front gate, seeing how we can support and be a part of the neighborhood as a whole. 
I was born and raised in Stoughton, MA, a suburb of Boston. I moved to the Bay Area in 2011 and fell in love with San Francisco. After high school, I went on to college and did coursework focusing on special education, art education, business, and communications. 
I taught elementary school for two years with a focus on special education, but always had a passion for the part of my job that included supporting my students and the community outside of the classroom. I have enjoyed working with the community to register voters, hand out resources for food, and work together to improve the community through volunteer work. 
Outside of work, you can find me singing and dancing with my two children, baking goodies to share with my children and coworkers, perusing a bookstore or two for exciting finds, crocheting or knitting, or enjoying the city with friends.