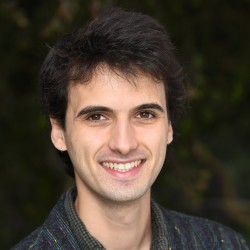 Theo Dumothier
Dean of Library Services and Learning Commons
Looking for fun and feelin' groovy.
I was born in France in the Parisian banlieue and immigrated with my family to Houston at the age of three. I grew up in a French-speaking household, and my family would travel back to France yearly, so I grew up feeling culturally French even though I was living in Texas.
I later moved to the Bay Area to attend UC Berkeley where I earned my BA in Philosophy with a minor in Greek Studies. After graduating from Cal in 2018, I worked as a bookseller at Pegasus Books in Berkeley. I fell head over heels in love with the book trade, and that love set me on my current career path in libraries. I went on to earn my Master's in Library and Information Science from Simmons University before returning to the Bay Area to join SFS.
I love putting books into people's hands and organizing spaces where imagination and inquiry thrive, so I feel immensely lucky for my role in the Learning Commons. I am always brainstorming new ways of creating a more engaging and digitally-integrated "library of the future" for students!
In my free time, I enjoy reading, long walks in the city, baking (and eating) sweets, and being a homebody with my partner Roz and our dog Charlie.