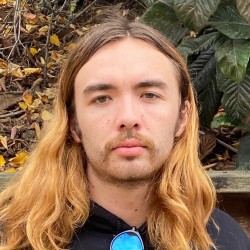 Maceo Anderson '14
Extended Day Instructor and Substitute
I am so excited to be back (again!).
I graduated from the San Francisco School in 2014. After graduating from SFS, I attended the Urban School and the Oxbow School. I then went on to study fine art, predominantly oil painting and hand-work ceramics, at the University of California, Los Angeles. 
Besides the more traditional arts, my interests include movies, history, geography, trivia, and sports. I'm a big Bay Area sports fan, though I'm also a big nerd about anything related to college football or Formula One racing. 
I've spent my life sort of bouncing back and forth between the Bay and Los Angeles, but nowhere feels like home compared to San Francisco.