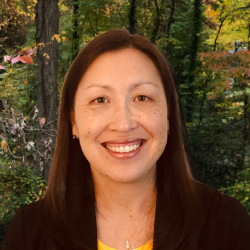 Juna Kim McDaid
Head of School
Thriving together at SFS!
SFS is a thriving school filled with student scholars and dedicated staff, parenting adults, and trustees, who prioritize the well-being of students and an inclusive community for all.
Coming out of college with an education degree, I started teaching high school English at a large public school outside of Boston. I have fond memories of colleagues and lasting connections with students from that time, but I longed to emulate my beloved independent school teachers in a progressive education approach with small classes of students and an advisory program. Finding an English teaching position at an independent school near Boston was a turning point in my career that has led me here. Throughout my journey, I taught English at the middle and high school levels, became an English department chair, then moved into full-time administration as a dean of faculty in San Francisco, head of middle school in Sonoma County, and assistant head of school for K-12 academics in northern Virginia.
As a career educator and leader, my work centers on students. We are because they are. With the students as our top priority, my role as Head of School will be to partner with and support the adults who make learning possible. I appreciate all of my mentors and guides, who have instilled in me a belief in the power of raising others up. I present at conferences, support professional development organizations in creating educational opportunities for educators, and mentor aspiring leaders to ensure there is a deep bench of leaders making educational experiences fulfilling for students. 
I hold a Bachelor's degree in English from Boston College, a Master's degree in secondary education from Boston College Lynch School of Education, and a Master's in English from Middlebury College Bread Loaf School of English. I am currently a trustee at the Gardner School of Arts and Sciences in Vancouver, WA, and a former trustee of Northern California People of Color in Independent Schools (PoCIS).