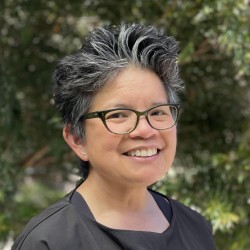 Adele Madelo
7th Grade Humanities Teacher
We are meant to share experiences.
I've always been attracted to stories. Going to college wasn't just a rite of passage; it accelerated my love of stories. The history major–and taking creative writing and foreign languages classes–at UC Berkeley was a great conduit to different perspectives. Later, graduate school at New York University expanded my exposure to different stories and ways of telling them. I was lucky enough to watch many types of films and do video production, where I shot other people's stories as well as my own. But there was more to explore: A department that combined art, new media, and collaboration fulfilled that zest for continued learning.
Teaching, though, wasn't on my radar. But subbing for a colleague was, and it led to gigs at The New School, which, I found, suited me. Those relationships forged in grad school also led me to independent education: I spent 5 years as a Media Studies teacher at a Long Island middle and upper school, which was an ideal place for my experience in history and video production. 
Being back in California brought me back to the dedicated history classroom, where it was a big privilege to teach 7th and 8th graders. We studied the past and present with a critical eye. We later synthesized our knowledge into narratives (including audio ones) as well as informative and persuasive texts. Just as important were the laughs we shared despite all the seriousness of the material. 
Finally, I am excited to continue lifelong learning with the vibrant SFS community and to forge new relationships with you.