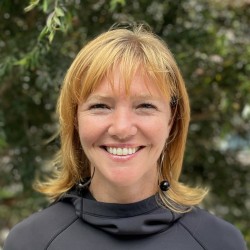 Laura Bridges-Pereira
Director of Special Programs
I recognized immediately that SFS is a place where student wellbeing is at the center of all decisions. It is a place filled with joy and creativity, where students and adults alike feel supported and inspired.
I was born and raised into a crafty family of makers and doers in rural Virginia where I had a really idyllic childhood and memorable education experiences. I learned French in college which led me to France to study and work for two years on the sunny, sweet Mediterranean. I moved to Portugal where I lived for three years, traveling back and forth to Spain regularly.
All of this exposure to language is what prompted me to pursue a masters degree in French and Language Acquisition at Penn State University. During my time at Penn State I fell in love with everything related to teaching and learning. It led me to a career in education where I have happily been ever since! 
Fun facts: I speak French, Portuguese, and Spanish at an advanced level.  I have taught French, Spanish, beginner Latin, Mayan hieroglyphs, knitting, pickleball and papier maché in my career. I am a voracious reader, an avid practitioner of pilates, and a hobby gardener!