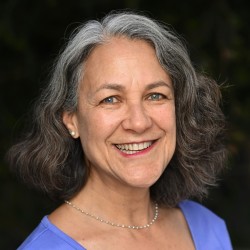 Dolores Elkin
Kindergarten Co-Head Teacher
Born on the lower east side of NY, I loved my early childhood school and art experiences, and those passions have stayed with me for life.
I graduated from SUNY New Paltz as an art teacher, received a Masters in Early Childhood Education from Bank Street College of Education, and have taught PreK, K and 1st grade in public and independent schools. In 1990 I walked into The San Francisco School and saw its trees, yards, space, art on the walls, the dynamic progressive education all around me, and have stayed since then. It has been fulfilling for me to introduce children to the joys of learning, be it academic, social, artistic or life skills. Since 2009, I have also worked with Riveropolis at SFS teaching engineering, art, and construction projects. I am licensed with a CA Child Development Program Director Permit, CA Clear Multiple Subjects Teacher Credential  PreK-6 along with Art grades 6-8, and a  NY State teaching certificate PreK-6 and Art. 
Outside of school, I love to hike, swim, play games and be with my family, friends and children.