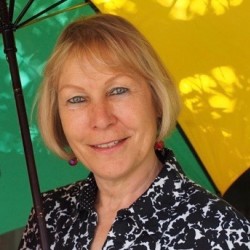 Vahlee Peters
Preschool 4 Head Teacher
I am drawn to The School's diversity and willingness to engage in courageous conversations.
I grew up in Germany. After earning my BA in Social Work, I got a job with Social Services in Berlin supporting homeless youth and young drug users. Then my social work career took me to the south side of Chicago where I worked with impoverished seniors living in some of Chicago's most notorious public housing projects. The time with my clients opened a window into a level of poverty and deep seated, blatant systemic racism that I had never known before. This experience propelled me toward learning more about and working toward racial equity and justice ever since. 
I moved to San Francisco in the late 1980s and have since studied Montessori Education, received an Early Childhood Education credential, completed my Multiple Subject Teaching credential and earned a Masters in Educational Administration. After directing the Montessori Children's House on Lake Street for several years I joined SFS's North Class team in 1996. There has not been a dull moment playing, learning, and teaching alongside my students and co-teachers in the preschool. 
Outside of school, I love to hike, boogie-board, garden and travel with family and friends.