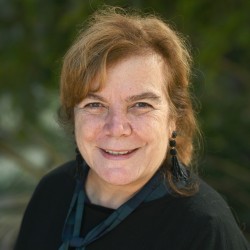 Sofia Lopez-Ibor
Music Teacher
I work in music education because I am more interested in the process of making music than in being a performer only working on the final product.
I have taught music since I was 19 years old! I was born in Madrid, Spain and went to a school that had wonderful music classes. Growing up singing, playing xylophones, dancing, and reciting poetry was a great foundation for becoming a music teacher. The year after I graduated from high school, I was tapped by my school's music department to teach! Later I studied recorder, flute, and Baroque music in Madrid and London, and specialized in music pedagogy in Madrid and at the Orff Institute in Salzburg, Austria. I came to The San Francisco School in 1996 and I still enjoy walking into the main gate every morning, entering the quiet music room and imagining how it will soon be filled with the sound explorations and rhythms of the day.
Outside the gates of 300 Gaven, I am a teacher-educator, leading hands-on courses all over the world in the teaching philosophy of Orff Schulwerk. In 2012 I received the Pro Merito award from the International Orff Schulwerk Forum for my work as a leader in this field. I have published two books in English: "Quien Canta Su Mal Espanta" a collection of traditional children's rhymes, songs, and dances from Latin America, and "Blue is the Sea" which explores the integration of music, movement, and the visual arts, one of my favorite themes as a teacher. San Francisco is now my home, but I love spending the winter and summer vacations with my family in Spain.