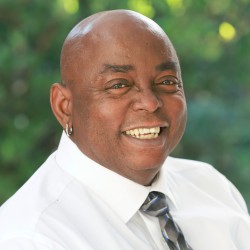 Eugene Stampley
7th and 8th Grade Science Teacher
SFS is a magical place where differences are embraced and celebrated, this is what I enjoy most about this community.
A native of Chicago, I have been in secondary and middle school education for more than twenty years. I have a great passion for teaching science, most likely inherited from my mother who was a Special Education Teacher for many years.
My life has been and continues to be centered on family. My husband and I have the honor of guiding and rearing our son, Jayden, who is now an SFS student. My extended family includes two sisters, two nephews, and one niece.
My parents and grandparents are deceased. I must admit that at times I miss them immensely, I had the great honor and pleasure of caring for both of my parents and grandparents during a very difficult time that led to their transition. I am grateful to God for having the opportunity to show them all how much I loved them.
I have always been passionate about teaching and science. When I was seven years old, I asked my parents for a microscope for my birthday. They were perplexed about my request, asking how I knew what a microscope was, to this day, I don't know. During the summer my sisters and I would "play" school, and I always had to be the teacher. This natural curiosity about teaching and science guided me to participate in the science fair in high school. During my senior year in high school, I was selected to represent the State of Illinois at the International Science and Engineering Fair, being the first African-American selected from the State of Illinois.
During my teaching career I have received many recognitions. The most valuable recognition however, has been the many thank you cards, phone calls, and personal accolades offered by my students. I have been nominated for the Golden Apple Teaching Award, and been the recipient of the Suave Performance Plus Award for Excellence in Teaching, and Teacher of the Year four times. Recently I received my Master of Arts degree in Education with a concentration in Teacher Leadership from Ashford University.
As I reflect on my life, I am humbled that I was chosen to impart and share knowledge with young adults. I cannot think of any profession that is more noble than teaching, and I am truly, truly humbled! If my life at the end reflects my journey, I want my epithet to read, "Just a Teacher!"