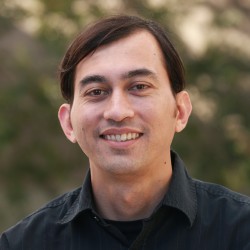 Afandie Winter
Technology Support Specialist
I am blessed to find myself as the Technology Support Specialist at SFS, doing what I love: supporting teachers and students' technological needs, and being part of this wonderful community.
I was born and raised in multicultural Singapore. Growing up, I was always interested in tinkering with electronics. In fact, I built my first computer using mostly junked and recycled parts I slowly gathered.
After Secondary school, I enlisted in the Singapore Army (obligatory two year service). Thereafter, I furthered my studies in Mass Communications, in Melbourne, Australia.
Upon graduating, I worked for Singapore Airlines but really wanted to live abroad. So one day, I took a map of California, eyes closed, dropped my finger and voila! I was in San Francisco three months later. This happened in 2005.
My first job was at the de Young Museum cafe. Following that, I landed a position in Palo Alto and later, in Berkeley managing computer repairs, specializing in Macs. Outside of work, I am a vinyl enthusiast collecting mostly Ska, Rocksteady and Early Reggae records from the 1960s to mid-70s.