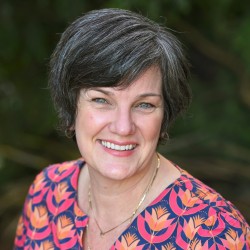 Jennifer Keese-Powell
Director of Advancement
It is a pleasure to be surrounded by the engaged students and families, and thoughtful, intentional colleagues at SFS.
I grew up in a big Southern California family with mid-western roots. While in high school, I was an exchange student to Costa Rica in the year immediately following the end of the Central American wars. This experience shaped my path for the next ten years. I earned a Bachelors degree in Latin American Studies from Regis University in Denver, Colorado and a Masters degree from Georgetown University's School of Foreign Service. I worked in international development for a few years, working primarily on USAID projects in Latin America.
I moved to San Francisco in 1999 where I began a career in Marketing and Communications. I worked for eight years at a boutique investment bank focused on the asset management industry, followed by seven years at a financial advisory firm serving families, endowments, and foundations. During that time, I became very involved in my sons' schools which inspired my interest in education, non-profits, and philanthropy which led me to SFS.