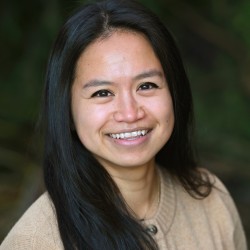 Michelle De Leon
Associate Director of Admissions, High School Guidance Counselor, & Faculty Trustee
My curiosity has always led me to great places and I couldn't be more thrilled it brought me to the SFS community.
I grew up in Northern California where my love for exploring the great outdoors first flourished. I earned my B.A. in Liberal Studies with an emphasis in Literature, Language, and Communication at San Francisco State University. My passion has always been in education and helping others. 
I've been so fortunate to work at the San Francisco School where the staff and faculty are truly lifelong learners. During my time at SFS, I have held many roles - Assistant to Division Heads, Substitute Coordinator, MS advisor supported Front Desk, and the High School Guidance Application process. Since 2018, I've been the Upper School Program and Admissions Associate. I'm excited to take on the role of Associate Director of Admissions and High School Guidance Counselor. Each year, I look forward to bringing new families into our community while shepherding our 8th graders onto their next adventure–high school and beyond! Furthermore, I am committed to building a school where the students can see themselves in the adults that surround them.
When I'm not at school, you can find me adventuring with my dog Newton, climbing, traveling, reading, or trying out a new recipe!