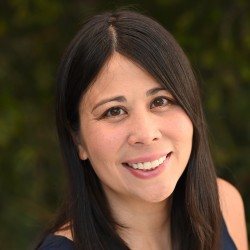 Christina Baum
Preschool Head Teacher
My goal as an educator at The San Francisco School is to implement our school's mission: to celebrate the intellectual, imaginative, and humanitarian promise of each student.
I grew up in the Philippines and immigrated to the Bay Area shortly after earning my B.A. in Psychology from De La Salle University. During my time at DLSU I was given the opportunity to help teach a reading remediation program in an under-served public school, and it was there that my passion for teaching blossomed.
I earned my Early Childhood Teaching Credential at the Montessori Teacher Education Center in 2009 and completed my teacher training at Beresford Montessori. After that I joined Serendipity Preschool in 2009, where I spent five years teaching Pre-K followed by two years as a head teacher in a 3's classroom, implementing an over-arching kindness curriculum, building empathy, and creating engaging activities for my students.
Aside from teaching, I enjoy exploring new cities, discovering good restaurants, curling up with a good book, and playing board games.