Here's The Scoop
Ginger Jackson-Gleich '99 and Moriah Ortiz '99 (with Molly Rose Treadway '99)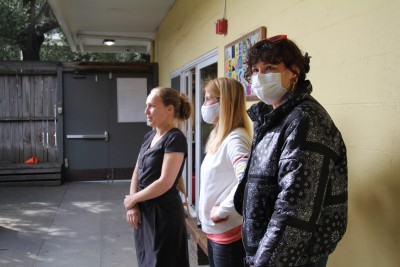 Molly, Ginger, & Moriah in the South Yard
Steve Morris interviews Ginger Jackson-Gleich '99 and Moriah Ortiz '99 in the latest edition of Here's the Scoop: Mud Pies with SFS Alumni! The alums talk about their earliest SFS memories, the school's "local magic" with arts and trees, and the passion SFS inspired to create a better world.
Ginger is an attorney in criminal justice issues who currently clerks at the California Supreme Court. She will return to criminal justice advocacy and client representation this fall at Rosen, Bien, Galvan & Grunfeld. 
Moriah works as a Registered Nurse Care Manager with SF Health Plan, providing advocacy, support, and health education to Medi-Cal recipients. She will serve on the 2022-23 SFS Board of Trustees. 
On a visit to Gaven St., they reunite with SFS 1st Grade Teacher Molly Rose Treadway '99 and many others as they see familiar and new campus sites, reminisce, and share their stories.
Chad Williams '90 
Chad Williams '90 is currently the Samuel J. and Augusta Spector Professor of History and African and African American Studies at Brandeis University in Waltham, Massachusetts. His expertise includes African American military history and the life and works of W.E.B. Du Bois. Chad and Steve talk about discovering Chad's Black identity, writing about the Little Rock Nine in 5th grade, and the importance of teaching African American history (interviewed September 2021).
 BONUS! Professor Chad and Head of School Steve share their Black/African American literature essential reading lists and the hip hop music that not only influenced them individually, but also the arts, culture, and world understanding of the Black/African American condition.

Paul Gross '11
Paul Gross '11 is the Co-Founder and CEO of Remora, an innovative startup that's working to turn America's two million semi-trucks into a roving fleet of carbon removal devices by capturing carbon emissions. The captured carbon dioxide is then sold to concrete producers and other end-users, helping companies earn new revenue while meeting their climate commitments.
Paul and Steve talk about the impact of middle school science class and An Inconvenient Truth, biking across the USA, starting up a company, and favorite SFS traditions. Featuring a Zoom bomb by former SFS science teacher Brian Donovan! (Interviewed September 2021)
To learn more about Remora, go to https://remoracarbon.com.