Kelsey Faulk-Robinson '98
Cake designer and owner of The Whole Cake
SFS alumna Kelsey Faulk-Robinson is a renowned cake designer and owner of The Whole Cake, a boutique cake-design studio in Oakland. Kelsey shared some of her sweet talent with us by donating several beautiful batches of cupcakes for The School's 50th Anniversary Celebration in April.
Kelsey attended The San Francisco School through 5th grade before attending Everett Middle School and San Francisco School of the Arts (SOTA) for high school. She headed east for college, attending Rhode Island School of Design where she majored in Sculpture and minored in Photography. After college Kelsey worked for a medical group in Massachusetts, producing anatomical models for teaching hospitals. In 2005, she returned to San Francisco where she discovered cake art. She worked for a wedding cake business and honed her artistic skills. After refining her design skills and growing her network, Kelsey launched The Whole Cake in 2011.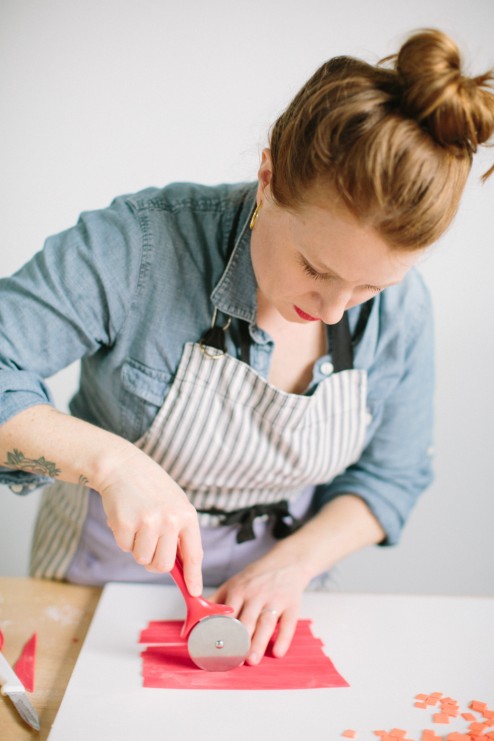 Kelsey recalls loving elementary art class; in particular she remembers the decorative and colorful nature of the class, traits that now describe her current role as a cake designer. She is grateful for the "opportunity to play artistically as a child" because she continues to experiment with art techniques in her daily profession.
Kelsey also credits the school for nurturing and exposing her to various art practices at a young age, ultimately fueling her passion to carve out an arts-based career. She affirms that if she hadn't had this foundation she wouldn't be pursuing a career in an art practice.
Posted August 04, 2016