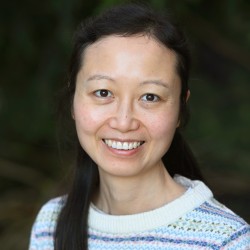 Jiazhen Zhang
Middle School Math Coordinator & 8th Grade Math Teacher
The moment I stepped into the courtyard of SFS when I came to interview late last Spring, I felt I was 'home', embraced by warmth and heart-felt personal touches. It feels like a place with rich stories, and a place where students and families are welcomed to contribute their voices to this evolving story.
I was born and raised in Hangzhou, China, a coastal city near Shanghai.  In 2000, I adventured across the world to attend Rhodes College in Memphis, TN.  I graduated Phi Beta Kappa with a degree in Mathematics and Computer Science in 2003.  
After interning as a software engineer in my senior year, I decided to pursue a teaching career instead.  I spent three years teaching at Garrison Forest School, a preK-12th All-Girl Boarding/Day School outside of Baltimore.  While there, I taught courses from algebra to calculus, and served as a dorm parent.  These three years opened a window for me to glimpse into the cultural landscape of American schools, and provided a precious opportunity for me to get to know each student as a "whole" person. I also learned the importance to incorporate real-world applications in my classrooms to make math more accessible and meaningful.  
In 2006, I moved to San Francisco and started teaching at Marin Academy in San Rafael. I spent nine rich and stimulating years there, collaborating with colleagues and growing to understand myself better as an educator and an Asian American. I am excited to be the 8th grade math teacher this year, and to share with the students what it takes to succeed in high school and beyond.
Over these years of teaching, I have found a set of yoga and meditation practices that help me clear away daily stress so that I can perceive and communicate better in and outside of the classroom.  In 2009, I completed my yoga and meditation teacher training through the Art of Living Foundation.  Now, I volunteer to teach workshops for teenagers and adults across the bay area.  M&M - Math & Meditation! What better tools to give to young people to help them become calmer, smarter, and happier!