First Weekend of Service - A Resounding and Inspiring Success!
Tagged with:
By Raveena Rihal and Libby Reder
"I was grateful I could easily sign up and give our time with a community I deeply value and love spending time with." - SFS Parent/Guardian
During the last weekend in April, SFS families came together to participate in our first-ever Weekend of Service, with 100 volunteers in four locations over three days.
Despite being a wealthy city and technology hub, homelessness is a part of our daily lives in San Francisco. This weekend came out of a focused initiative on family poverty and homelessness in SF, which arose from a joint effort between the Public Purpose Committee and the Family Association to empower our school community to understand and work to improve these incredibly complicated issues.
"We have new faces to consider and discuss when we think about those who need additional nutritional support." - SFS Parent/Guardian
At the Excelsior Community Food Pantry, which serves close to 300 neighborhood families weekly, our volunteers from ages three and up helped organize and distribute 6,600 pounds of free groceries.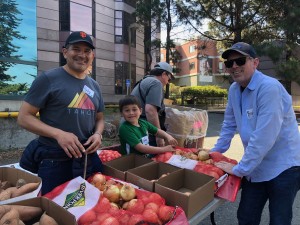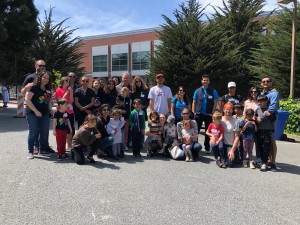 "It challenged me to change my expectations on what service learning means…that it doesn't necessarily have to be something that makes a BIG difference, but rather something that teaches us about the impact that we can each make in little ways." - SFS Parent/Guardian
Raphael House, the first and largest family shelter in San Francisco, provides transitional housing for 31 families with intensive programming and services to end the cycle of homelessness and poverty. Our families helped clean and spruce up their roof deck playspace, solarium, and garden.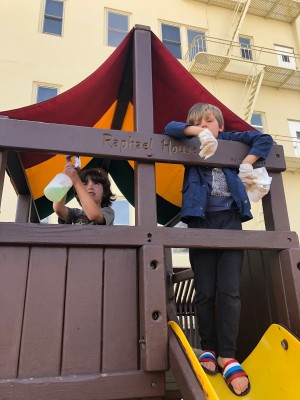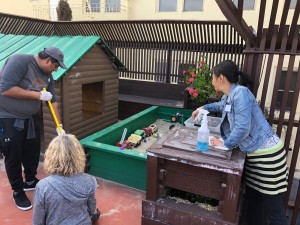 "I spent the 2 hours with 2 women who were previously homeless and incarcerated. I learned so much from them about how to support all people based on their experiences." - SFS Parent/Guardian
At Glide Memorial, a San Francisco social justice institution known for (among many other things) a free kitchen that serves 2,000 meals per day, our volunteers assembled 800 sandwiches and bagged 800 lunches to be distributed later that day.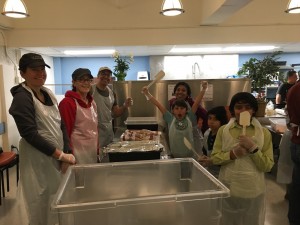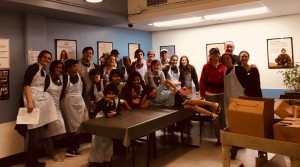 "Just seeing and touching the basic hygiene items really made her think about what other items/services our neighbors experiencing homelessness may be without." - SFS Parent/Guardian
Last, SFS volunteers returned to Simply the Basics, an SF-based nonprofit that collects and assembles hygiene kits to be distributed to our neighbors without homes, and assembled 200 kits! We have partnered with Simply the Basics at other times this year, running a hygiene supply drive and hosting its founder, Meghan Freebeck, at a community meeting.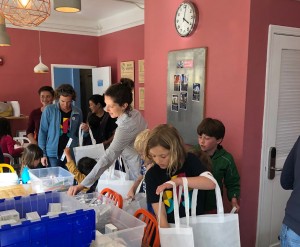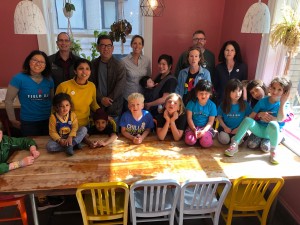 In addition to all of the the wonderful work that was done on the Weekend of Service itself, this was a chance for families to engage in deeper conversations about poverty and people experiencing homelessness, and how we as a school can get more involved in our community. Thank you to all of the organizers and participants!
Posted May 07, 2019